Welcome to our class.  Badgers class is year 5.
Our teachers are Mrs Siddiqui and Mrs Thompson.  Our teaching assistant is Mrs Hodson.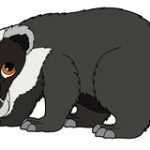 Badgers are a welcoming class, and have high expectations of our work and ourselves. We aim to enter the 'learning pit' every lesson and use our learning policy to help us get back out.  The learning pit helps us to recognise, welcome and learn from challenges in order to improve our learning.
Our homework is handed out on a Friday and is due back in again the following Friday, this is the same for spellings. The words given out,  not only need to be learnt to be spelt correctly but also how to read them and use them correctly in a sentence.
PE kit is expected to be at school at all times in case the PE day changes.
Children are encouraged to read at home every day with an adult.   For some free readers, this can be to themselves with adults asking questions about what they have read before signing the reading journal. The children are responsible for changing books when they have finished one, as well as choosing books that they think they will enjoy reading.