Welcome to Badgers Class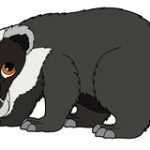 Welcome to Badgers Class Home Page, we have children from years 4, 5 and 6
We are excited to welcome you all back in the extraordinary times. Your teacher for the year is Mrs Horsford and Teaching Assistant is Mrs Hodson. We've had an amazing start to the year, we're so proud of the children and how they've adapted to all the new routines. We are looking forward to many wonderful adventures throughout the year ahead.
Topics for the year
Term 1: Changes
We'll be looking at how Britain has changed through the ages and how life is ever changing.
Term 2: Full Moon
Over this term we will be investigating Space, in particular our solar system and how the planets move and the effect they have on each other.
Term 3: What's Mine is Yours
During the course of this topic we will investigate why people become refugees and the impact this has on many people's lives.
Term 4: We'll Meet Again
This term we will be finding out about World War II, we'll learn why it started and the impact it had on many lives.
Term 5: Creature Features
We'll investigate Charles Darwin's theory of evolution this term, looking at fossils that show how living things have changed over the course of millions of years to suit their environment.
Term 6: Community Living
To finish the school year we will look at the history of Charing and we'll be celebrating the GRT community.
Homework
Homework will be set in term 1 on Friday 11th, 18th and 25th September. All homework will then needed to be completed by Wednesday 30th September, when the book needs to be brought back to school mark. There will be no homework set on 2nd October. Books will be returned to children by 9th October with all work marked, as this gives enough time for them to be quarantined as they come in and as they then go back out. Work will then be set on 9th October, 16th October and 23rd October. The homework books will then need to be returned by Wednesday 4th November with all 3 weeks of work completed.