Welcome to our class.  Rabbits class is year R and year 1.
Our teacher is Mrs Golden. Our teaching assistant is Miss Glover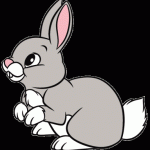 The Early Years' Statutory Framework sets out the standards and expectations for early years' provision.  At Charing, we absolutely agree with the framework's statement that "every child deserves the best possible start in life and the support that enables them to fulfil their potential. Children develop quickly in the early years and a child's experiences between birth and age five have a major impact on their future life chances."
We aim to provide learning opportunities that support all aspects of a child's development, including their physical and social skills.
The statutory framework identifies seven areas of learning and development that must shape the early years' provision in schools:
Prime areas: communication and language, physical development, personal, social and emotional development.
Specific areas: literacy, mathematics, understanding the world, expressive arts and design.
In planning and guiding learning experiences, our teachers reflect on the different ways that children learn.  The characteristics of effective learning are: playing and exploring, active learning and creating and thinking critically.
Year 1 children follow the expectations in the National Curriculum.