Welcome to our class.  Squirrels class is year 2.
Our teachers are Mrs Boorer and Mrs Corner. Our teaching assistant is Mrs Nunn.
In Squirrel Class we are, of course, bright-eyed and bushy-tailed!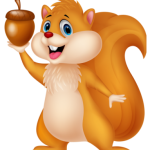 Reading:
As the development of reading at this stage in children's education is paramount in order to achieve both progress and attainment we focus on the teaching of reading throughout the year. The children are heard to read as often as possible, with the minimum being three times a week, individually and as part of a group. Careful assessments are made that inform the children's progress through the reading scheme.
Changing reading books:
The children are encouraged to read as often as possible and there is an opportunity every day for the children to change their choice reading scheme book and to share their reading journal with a member of staff.
Reading Journals:
The children are encouraged to write in their reading journals themselves, recording the date, title of the book and a simple sentence or two describing the events of the book or their opinion. There is space on every page for a picture. Children that write in their reading journals are rewarded.
Please remember to sign the journals when you have heard your child read so that they can continue to collect their stamps for the Ravenous Reading Reward scheme and earn prizes.
Phonics:
Phonics lessons are taught daily for 20 minutes. The children are grouped according to ability in order to ensure that they receive teaching at the appropriate level.
Please encourage your child to use their growing phonic knowledge when they are both reading and writing. Trust your child when sounding-out as they will know the correct pronunciation for each letter or cluster of letters. Initially many children do rely heavily on phonics in order to decode their reading, this becomes increasingly less as other strategies such as sight vocabulary are developed.
Spellings:
The children all have a blue word book.   All of the children are given a list of words closely matched to the phonics that they are learning each week.
The Year 2 children are expected to learn to spell these words and to use them, correctly spelt, in their writing. Please help your child to learn their spellings. The 'Look, Say, Cover, Write' method works well. The Year 2 children have their spelling test on a Wednesday.
For the Year 1 children they are expected to learn to read and recognise these words, thereby increasing their sight vocabulary.
Writing:
Children in Squirrel Class have the opportunity to write every day. They write about a variety of topics and for different reasons and audiences throughout the year. The skills of writing are taught, with focus being placed on the use of simple punctuation, grammar and spelling (following the No Nonsense Spellings for Year 2). Children are encouraged to write with independence, 'having a go', as this builds their confidence, rather than copying sentences or spellings given by the adult.
Handwriting:
Handwriting is taught every week. The children practise cursive script in readiness to join letters within words with fluency by the end of Year 2.
Religious Education:
The children are currently following the Canterbury Diocese planning for Year 2. The children all have access to a quiet area for reflection.
Personal Social, Health and Emotional:
Through their PSHE lessons the children are encouraged to develop awareness of themselves and others, develop empathy, sensitivity and consideration.
Physical Education:
PE lessons are now on a Monday afternoon and a Tuesday afternoon. These include an indoor session of either gymnastics or dance and an outdoor games session. Outdoor PE takes place on the field, weather permitting, or the playground if the ground is wet.
Please ensure that earrings are removed for PE days as we are unable to remove or replace earrings for your child and they are unable to do PE with earrings in due to the risk to health and safety for your child.
Please ensure that your child does have a complete PE kit in school. As it becomes colder please provide warm clothes for outdoor PE.
Other Curriculum Subjects:
All curriculum subjects are taught throughout the year through our Creative Curriculum. Planning is available on the website for each topic and as a 'hard' copy that the children bring home.