Our School
At Charing Church of England (Aided) Primary School, we work in partnership with our parents to develop every child's learning and to "unlock every child's ability to achieve beyond his/her expectations".
We aim to make school a positive experience for all children through enjoyable, interesting and stimulating activities and learning.
Our Christian values of Confidence, Determination, Faith, Friendship and Respect are at the heart of our school and our children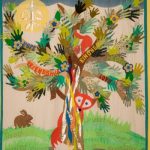 embrace and show these values, both in and out of school.
We pride ourselves on welcoming all new pupils and making them feel at home in our school.
Our children leave our school ready to face the next chapter in their learning journey, equipped with the values to complement the British values that form part of life in Britain today.
Our Vision
To learn more about our vision, please click on the link.  To help us achieve our vision, we have high expectations of all members of our school community.  These expectations set the standards for behaviour and form the home-school agreement which sets out the roles of all Charing community members in each child's learning journey.